Tripler Army Medical Center
Also known as the "big pink building on the hill", Tripler Army Medical Center, a 450 bed hospital, is the largest military treatment facility (MTF) in the Pacific Rim. It serves more than 260,000 beneficiaries in Hawaii and another 170,000 across the region. With a mix of active duty officers, enlisted staff, civilian personnel, and contractors, Tripler's thousands of employees constitute a diverse workforce.
In July, 2019, it successfully completed The Joint Commission Survey with unprecedented low findings. That year, it received a Practice Greenhealth Partner for Change Award, recognizing superior performance in environmental sustainability. Tripler Army Medical Center also maintains the Warrior Ohana Medical Home in Kapolei and the Warrior Transition Battalion at Schofield Barracks.
Tripler Army Medical Center is a Level II Trauma Center verified by the American College of Surgeons in the State of Hawaii. It houses a Simulation Center with all three accreditations from the Society of Simulation in Health Care, American College of Surgeons, and Maintenance of Certification in Anesthesia. It has an onsite helicopter landing zone, providing critical helicopter emergency medical services support to trauma patients and non-military beneficiaries during mass casualty events.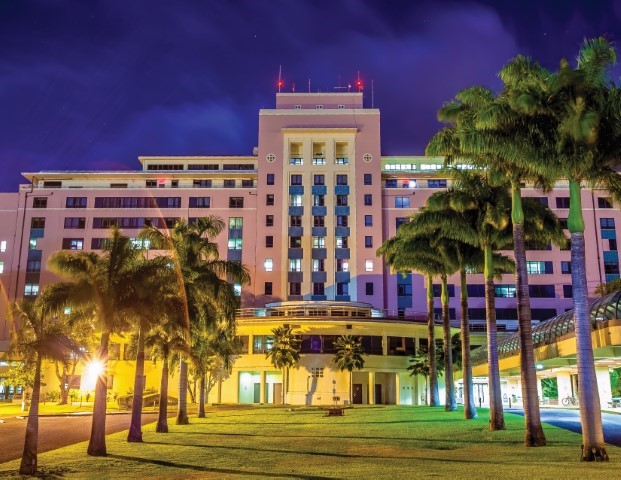 On an average day, Tripler Army Medical center receives 2,101 outpatient encounters, fills 3,102 prescriptions, processes 5,051 laboratory procedures, delivers six babies, sees 142 Emergency Department visits, and performs 34 surgeries in their Operating Rooms.
History
Established in 1907, as a series of wooden structures on Fort Shafter Flats, it was renamed Tripler Army Medical Center in 1920 after Brig. Gen. Charles Stuart Tripler, the legendary American Civil War medic who made significant contributions to military medicine. The current facility was commissioned in 1942 by Lt. Gen. Robert C. Richardson Jr., Military Governor of the Territory of Hawaii during World War II. In 1948, construction was completed on the then-tallest skyscraper in the Pacific. It boasted the latest advances in both medicine and building construction and served as place of solace for the U.S. Army Soldier to rest and recuperate both physically and mentally. A major expansion in 1985, added 433,000 square feet of space.
Supported Commands, Community & Partnership
As a healthcare facility, Tripler supports fleets and forces from the entire Department of Defense across the Indo-Pacific region. It is one of two federal government healthcare facilities in the Healthcare Association of Hawaii, made up of 170 members. Partners include the U.S. Department of Veterans Affairs, United States Coast Guard, United States Army Reserve, and the Hawaii State Department of Health. Tripler staff regularly participates in knowledge sharing with Adventist Health Castle, American Red Cross, Kaiser Permanente, Kapi'olani Medical Center for Women and Children, Hawaii Pacific Health, Shriners Hospital for Children, Queens Medical Center, and the John A. Burns School of Medicine at University of Hawaii Manoa. The Defense Health Agency rated Tripler as the number one provider of asynchronous telemedicine, and the Virtual Health team is a member of the Pacific Basin Telehealth Resource Center.